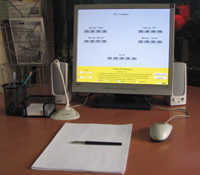 PARKTIME.PRO - the leader of the Russian market in the segment of equipment for paid parking, always offers its customers only the latest developments in this area.
The new digital loudspeaker communication (GGS) , developed and implemented by PARKTIME.PRO specialists, has a number of advantages over the analogue that preceded it.
This is not only an increase in the reliability and quality of communication, the possibility of signal retransmission and stable operation at long distances, but also the almost complete absence of the need for complex additional adjustments during the commissioning of the parking system.
We have achieved a fundamental increase in the number of connected subscribers (up to 255 instead of 11), which makes it possible to use the digital speakerphone module not only within the established paid parking system. Real savings on the cost of materials and installation work were obtained due to the absence of the need to lay a separate voice communication cable (free twisted pair is used in the existing communication line).
The digital speakerphone system developed by PARKTIM.PRO engineers provides additional opportunities for the operator's work: centralized control of user parameters (for example, volume), visual presentation of subscribers (structural map of the object on the monitor in on-line mode), fixing missed calls and ergonomics of the operator's workplace central control post of the parking system.
In addition to the above, the digital GHS has excellent potential for further expansion of the functionality of the equipment in the future.
More details - from the specialists of the sales department.
ORDER A COST CALCULATION
Warranty obligations
The warranty for all equipment is 1 year, after the commissioning of SPP PARKTIME.PRO, subject to the conclusion of a maintenance contract for this period. The possibility of extending the warranty is discussed individually.
To clarify the characteristics, call our managers by phone 8 (495) 212-12-50!
THEY ALSO BUY WITH THIS EQUIPMENT: