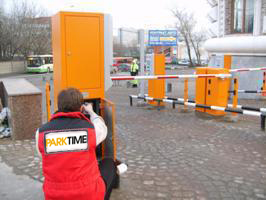 Technical support is one of the most important elements of PARKTIME.PRO work.
If you want to be absolutely sure that in the event of a malfunction of the purchased equipment you will be provided with prompt and high-quality assistance in fixing the problem, then PARKTIME.PRO is your choice.
Maintenance of each project, warranty and post-warranty service is an integral and obligatory part of work with each client. We strive to ensure that PARKTIME.PRO equipment not only always works perfectly and without failures, but also to timely make additions and changes in which the customer is interested.
We provide a full range of technical support services for the manufactured equipment and are always ready to offer comprehensive assistance on any issues that arise. Since PARKTIME.PRO not only supplies, but also develops this equipment, being the largest operator in this segment, then, turning to us, you have a manufacturer's warranty.
PARKTIME.PRO specialists are always at your service, they have the highest qualifications and are ready to give comprehensive advice on any issues that arise, as well as a wide selection of consumables and spare parts for quick replacement.
Be sure to contact with our support team at every moment you need our assistance.
Our specialists will immediately receive and process your request. You will receive our reply as soon as possible.