It is not secret that any equipment needs regular maintenance. Therefore, if you want to be absolutely sure of the correct operation of the purchased equipment, we are ready to offer scheduled maintenance of your system.
Comprehensive technical support for PARKTIME.PRO is based on the following components:
24/7 hotline of technical support PARKTIME.PRO.
A program for training specialists in qualification courses.
Regional service centers certified by PARKTIME.PRO, and equipped with everything necessary for replacement, repair and consultation on any issues, providing high-quality on-site full range of services.
Comprehensive service of parking systems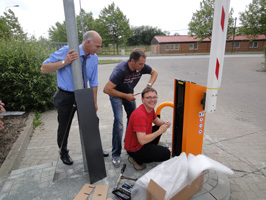 Service maintenance of paid parking systems is one of the priorities of the PARKTIME.PRO company. Our specialists are engaged in the maintenance and repair of parking systems in various cities and regions. The service system of the PARKTIME.PRO company has many years of experience in working with numerous partners, facilities and parking systems of various levels of complexity.
Our specialists provide service and repair of parking equipment, components and assemblies from various manufacturers. By concluding a service contract, you get a monthly scheduled visit of our specialists to perform preventive work at a convenient time for you. In the event of an emergency, a hot line always works for you: 8 (495) 212-12-50 or support@parktime.ru, where you can contact the engineer on duty.
The necessary set of spare parts and consumables to ensure timely repair and maintenance of your parking systems in operation is always at the warehouses.
Together with the technical department of the company, we will always help you to modify the installed parking systems for your individual requirements.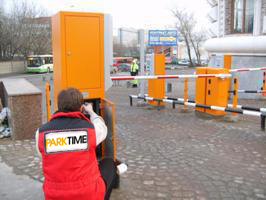 In case the equipment cannot be repaired on site, there is a possibility of repair in our service center. In this situation, we assume all obligations for the transportation of equipment. This service is free of charge for our regular partners and those who have entered into maintenance contracts with us. At the same time, it is possible to provide replacement for similar equipment during the repair of equipment, which is absolutely free for our Customers.
Service department PARKTIME.PRO offers the following types of service:
supply of equipment for the systems of paid parking «PARKTIME.PRO»;
modernization and expansion of previously installed systems of paid parking «PARKTIME.PRO» ;
maintenance and repair of parking systems «PARKTIME.PRO» and parking systems of other manufacturers;
supply of spare parts, components and consumables for parking systems.
The professionalism of our technical support will once again convince you of the correct choice of PARKTIME.PRO !